---
Digitising the Oxyrhynchus Papyri
Gideon Nisbet, researcher for the Oxyrhynchus Papyri Digitisation Project, reports on recent progress:
"Since October I've been working on establishing an online presence for the Oxyrhynchus papyrus collection, housed in the papyrology rooms of the Ashmolean. The first phase of the 'POxy' web site went online just before Christmas, featuring a range of resources on the town and its texts. There have been some revisions and updates since then, with an emphasis on feedback and requests from users.
The first really major advance will appear in the next few weeks. POxy 'phase two' will offer digital images of an entire volume of Oxyrhynchus Papyri (vol. 59). More volumes will be added over the summer. Our long-term aim is to make available images of every papyrus we can get our hands on, but our first priority will be to move forward from vol. 59 and catch up to the present day. Contributors to volumes still in the works may find that high-quality digital images can be usedto help them resolve difficult readings-a real and substantial addition to the arsenal of tools available to the papyrologist.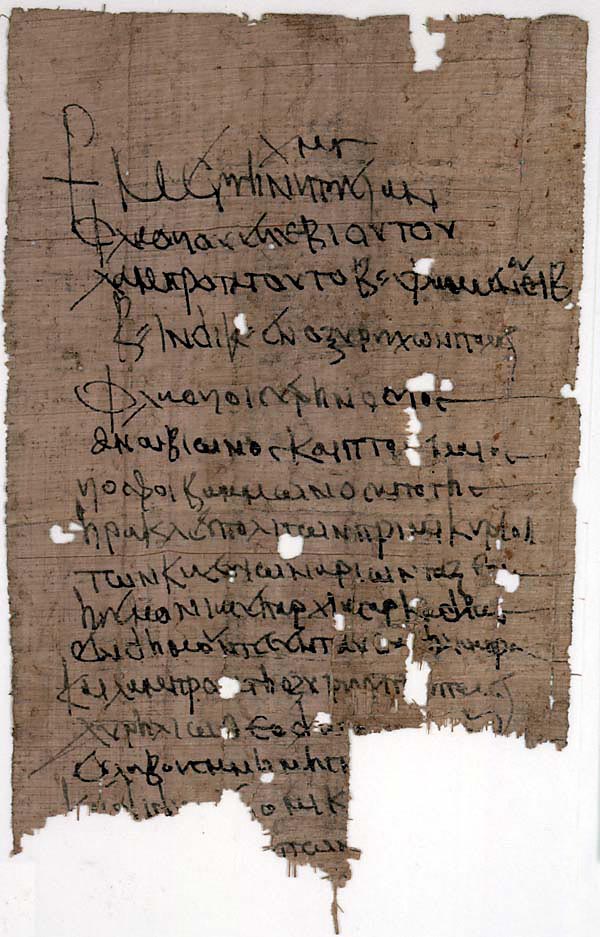 P.Oxy 3986: fragment from the heading of a contract between officials, dated 8 March 494 AD (72 dpi image captured with PowerPhase digital camera)
The digitisation project is getting up to speed. The Centre's PowerPhase camera is a joy to work with-it shoots fast, at any resolution you care to think of, and makes the cutest humming noise! The technical issues are mainly resolved; now our priority is to shoot, shoot, and shoot again."

---